Looking for ways to get fuller lips without having to undergo surgical treatments? Although the volumizing effect is not the same, it is POSSIBLE to get THICKER and VOLUPTUOUS lips by doing some simple tips and techniques at home.
When we talk about beauty, lips are something we cannot ignore. The shape of the lips that suits you depends on the shape of your face. Perfectly shaped lips definitely differentiate the beauty of any face, but if they are too thin they can be a source of embarrassment.
Frankly speaking, there is NO WAY you can permanently increase the size of your lips, except for lip transplant, of course! But, here are some ways to get fuller lips at home without the need for surgery.
How Can I Make My Lips Look Fuller?
Who has never dreamed of having that fleshy and sexy lips of Angelina Jolie, Scarlett Johansson or Pamela Anderson? They make us crazy! And although there are makeup tricks in order to achieve this end, women are still searching for the perfect answer to "how can I make my lips look fuller?"
In order to get thicker lips, you can resort to commercial products that promise wonders, or even surgery, which seems to be fashionable. But apart from being much more expensive, the results may not be what you expected and it's hard to back down.
That is why, today I am going to share with you 5 different ways to get fuller lips.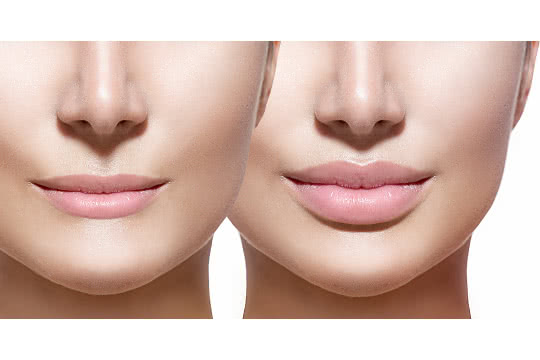 Different Ways To Get Fuller Lips
In this article, we will be talking about how you can get fuller and thicker lips by:
Natural ways (exfoliation, moisturizing, massages and exercises)
Essential Oils
Drugstore lip plumpers
Lip plumper tools
Lip plumper devices
Natural Ways To Get Fuller Lips
There are many women who, due to the risks involved in undergoing a surgical intervention and for fear of future complications resort to natural ways to get fuller lips. Here we show you 4 ways on how you can make your lips look fuller.
Exfoliation
In order to show fuller and juicier lips, it is essential that they are soft and the skin of the area is in perfect condition. So the first thing you should do is exfoliate your lips once a week, at least, to remove all those dead cells that make them dry and rough to the touch.
With this task, you will also be able to stimulate blood circulation, which will allow you to slightly increase the volume of your lips.
It is important to perform the exfoliation correctly. If you don't want to spend money on lip scrubs, a safe and ideal way to do it is using a homemade scrub made with brown sugar, honey and olive oil.
Photo Credit: GradedReviews.com
How to Do It: Form a paste by mixing a small amount of brown sugar, honey and olive oil. Apply the mixture to your lips and use a clean toothbrush to massage the mixture to your lips by brushing in circular movements.
Moisturizing
Rough, chapped, and skinny lips will look much thinner than soft, well-groomed ones. For this reason, in addition to exfoliation, you should not overlook the daily hydration of the lips.
Always carry a lip balm with you and apply it several times a day to avoid dryness. To this you can add the use of homemade moisturizers such as those shown below:
Aloe vera: Apply a little pulp or aloe vera gel to the lips. It will leave them hydrated and soft with a very flattering fleshy effect.
Shea butter: Spread a little shea butter on the lips, as it is ideal for treating dryness and hydrating them in depth.
Beeswax and Almond Oil: Mix a little melted virgin beeswax with a few drops of almond oil and apply to the lips. Both have powerful moisturizing and smoothing properties.
Massages
One of the best ways to add extra volume to the lips is by performing massages in the area. These manage to increase blood flow, improve lip muscles, and consequently make lips appear a little thicker.
Photo Credit: AmazingInfo.com
You can do the massage using aloe vera gel or some ice cubes so that they will look very attractive with a natural reddish tone.
If you opt for the ice option, it is important that you wrap the cube in a clean cloth and carefully pass it over your lips for 5 minutes a day. Avoid applying ice directly to the skin, as this could cause burns and irritation.
Exercise
Surely you do not get used to exercising your lips regularly. You should know that exercising your lips is one of the best ways to get fuller lips naturally.
It is recommended to do some exercises on a daily basis, they are very simple so you can do them comfortably at home while doing other types of tasks.
Exercise helps increase muscle size, and obviously, if you increase muscle size, lip size increases. These are the exercises that can help increase the size of your lips:
Blow the whistle: Like flute players, put your lips together and blow your whistle. Repeat for about five minutes and as many times throughout the day as you like. It is fun and effective.
Pout and Smile: You wanted that fuller pout, right? Well then, start practicing! Just put your lips together like you pout. From here you can do two exercises: Pout and then stretch your lips, like your smile, repeat for five minutes. Bow and then take your lips to one side and then to the other side giving approximately five seconds to each side.
Essential Oils for Lips
Here is some good news: You can create YOUR OWN lip plumper at home using essential oils! This is done by using the essential oils that we will mention below together with other natural ingredients.
Cinnamon Essential Oil
Cinnamon oil helps stimulate the capillaries on the lips and also improves blood flow. All you need to do is add a small drop of this oil to your lip balm and then do the usual routine.
You can put on lip balm whenever you want your lips to look attractive. You may feel a burning sensation after application, there is nothing to worry about, just wait a few seconds and it will disappear.
Peppermint essential oil
This oil works in the same way as cinnamon essential oil. Just add 1-2 drops to one teaspoon of petroleum jelly and use it regularly.
Cayenne pepper essential oil
This oil can be used in various ways. You can add it to your lip balm as above or you can use a small amount of ground cayenne pepper with a little water and use it on your lips.
Another way to use this oil will require a little effort. Take a tablespoon of coconut oil and mix it with 1/3 tablespoon of melted cocoa butter and then add 20 drops of sweet almond oil. Use this with your lip balm and tell me about the amazing results.
Use cayenne pepper in very balanced amounts because if you increase the amount you would not like the burning results!
Easy Ways to Get Fuller Lips
Getting thick lips is easier than you think. There is no doubt that the easiest way to get fuller lips is through purchasing lip plumpers that are already in the market!
Now these products have become fashionable, creating an immediate volume effect, raising the tone of your lips. Some of them include jojoba, sunflower or mimosa oils, to ensure that the lips are hydrated, full of shine and nourished.
Their innovative formulas stimulate the formation of collagen, hyaluronic acid and elastin, reducing lip irregularities and protecting it from aging and from free radicals generated by UV radiation.
Best Drugstore Lip Plumper
If you are looking for the easiest way to achieve fuller lips in a matter of minutes upon application, it is best to get the best drugstore lip plumper.
Idol Lips is a lip plumper and moisturizer in one. It contains natural ingredients that can retain moisture, provide hydration and of course cause fuller lips. The effect lasts for a few hours so it is best to bring it with you when you go out for a date.
If you plan to purchase it in bulk, it is best to purchase from the official website. You can take advantage of their product trial here.
Best Lip Plumper Tool
If you are not a fan of lip glosses or balms for thicker lips, you can use the best lip plumper tool below!
This specific lip plumping tool uses the Chinese Cupping suction technique that makes your lips fuller without chemicals. It does not only enlarge your lips but also improves the contour and shape of your lips.
The brand CandyLipz has been in the lip plumping industry for over 6 years with incredible success. You can enhance your lips by up to 3 times from its original size and create different sexy lip styles by simply sucking the device for a few minutes.
You can check out their products here.
Best Lip Plumper Device
Want a more modern way to get plumped lips? The best lip plumper device can automate your road to glamorous lips!
This specific automatic lip plumper device has a contoured mouthpiece that comfortably fits majority of people. It has a push button control which allows you to fully control the pressure provided by the device.
It works just like the lip plumper tool, only that this one is easier to use because the suction is automatic. Results using JavaLips lip plumper device lasts anywhere between 4 and 10 hours.
You can purchase this lip plumper device here.
The Best Lip Plumper That Really Works
Surely we have given you a lot of ways to get fuller lips! Still wondering what is the best lip plumper that really works? Here is our pick!
Why we chose this: Basically, all the lip plumpers mentioned in this article works. However, if you've already tried a plumper gloss or lipstick, you probably have experienced results which only lasts for about 1-2 hours.
If you are like us who want to modify the shape of our lips with a much longer lasting result, CandyLipz Xtreme Lip-Shaper should be your best pick!
This specific brand comes in different sizes which can accommodate different lip sizes of men and women. What's even more fun is that you can choose to have either single-lobed or double-lobed lips depending on your mood.
On average, results lasts for 2 hours. However, there are lucky users who reported that their plumped lips lasted the whole day.
You can purchase the original CandyLipz lip plumping tool here.
Finally…
Having thin lips is not a bad thing, but it is true that lips with volume are always more attractive. Many people decide to go under the knife to increase them, but it can also be done without going to that extreme.
We have given you 5 Ways To Get Fuller Lips. Share your story and let us know what method you chose to increase the size of your lips by placing a comment below. 🙂